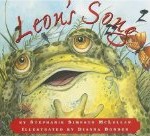 Leon's Song – written by Stephanie Simpson McClellan and illustrated by Dianna Bonder
"If you saw Leon dozing in the sun, you might think age had made him all quiet and peaceful inside. You might think he was content to spend his day resting and remembering. But you'd be wrong…As old as Leon was, his heart was young with yearning."
Leon is an old frog who dreams of doing something important. Although he lacks beauty, power and physical strength, Leon wishes most for a beautiful singing voice. When a dark, threatening shadow appears in the pond, Leon's world is about to change. Fortunately his special talent is unveiled and the pond is profoundly transformed. A beautifully illustrated, thoughtful tale.
I share Leon's Song
with children every summer. I use it as part of a frog theme in a kindergarten program but the story goes well beyond frogs and pond life. It is a joyous celebration of self acceptance, finding one's voice and making a difference.
Best suited to children ages 5 to 8
Stephanie Simpson McClellan's Ponds in Winter K-4 Teaching Unit
Leon's Song at Amazon.com
Leon's Song at Amazon.ca