Can You See What I See? Toyland Express written and illustrated by Walter Wick
Picture book published by Cartwheel Books, an imprint of Scholastic
I have written previously of my younger son's fascination with picture puzzles. When he was four or five, he would spend countless hours searching for objects and noticing small differences between pictures. He loved to have a picture puzzle book as one of his bedtime stories. He is still a fan of puzzles and is very attentive to small details.
Picture puzzle book are wonderful for small children, they encourage kids and adults to slow down and take time to enjoy illustration. They demand that readers pause to examine and appreciate illustrations rather than turn the pages quickly. They also encourage concentration and attention to detail.
I am a big fan of Walter Wick's work and have shared many of his books with children. Can You See What I See? Toyland Express takes this genre to a new level as it introduces a picture-narrative to the usual puzzle format.
We begin in a woodwork shop and can almost smell the woodshavings and sawdust. It is clear that a skilled craftsman is at work, creating train parts and other intriguing toys made from wood. Turning the page, the woodworker's creations have been shifted to a large paint shop where bright colours are added to an amazing array of toys and toy parts.
Once painted, assembled and boxed, the Toyland Express – a cheery toy train – is prominently displayed in a toy store window, hoping to entice a buyer. Sure enough, the train, track, bits of scenery and characters become a treasured birthday gift for a young child. One can almost imagine the squeal of delight when the gift is opened.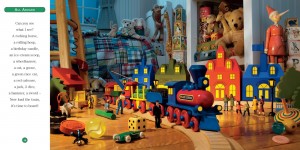 Gorgeous spreads take us from woodshop to paintshop; toy store to birthday party, soon the bright wooden train joins other toys in a child's bedroom and undergoes transformations as the child changes the backdrop, accessories and scenery. Each scenes includes a rhyming list of hidden objects to find:
Can you see what I see?
A rocking horse,
a rolling hoop, a birthday candle,
an ice-cream scoop,
Eventually, the well-used train set is stored, with other discarded toys, to gather dust. All is not lost, however. A yard sale and refurbishment are just around the corner for the Toyland Express. Before long, the train is happily chugging through a new, modern world, consisting of blocks, paper, dominos, cars, boats and other toys.
Sure to captivate puzzle-solvers as they search for hidden and disguised objects, Toyland Express encourages imaginative play and delivers a "green" message. It may send readers scrambling to discover treasures at a neighbourhood yard sale or encourage children to consider the steps involved in creating toys.
Can You See What I See? Toyland Express from Amazon.com
Can You See What I See? Toyland Express at Amazon.ca