Storytime Standouts looks at wordless picture book Good Dog, Carl by Alexandra Day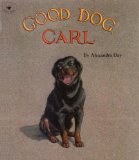 Good Dog, Carl created by Alexandra Day
Almost wordless picture book published by Simon and Schuster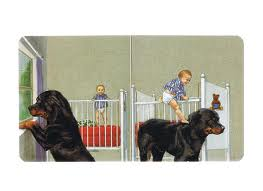 This immensely popular almost wordless picture book will be thoroughly enjoyed by dog lovers and young mischief makers. When mother goes out for awhile, she asks her pet rottweiler, named Carl, to look after the sleeping baby.
Carl watches at the window as Mother leaves and then lowers the crib rail and waits patiently while Baby Madeline climbs onto his back. Carl provides loving care for the infant, bouncing her on Mother's bed, playing dress up and meeting her at the bottom of the laundy shute. When the baby goes for a dip in the family fish tank, Carl is nearby, ensuring that she is swimming safely. Eventually Carl makes lunch for Madeline, returns her to her crib and tidies the house thoroughly before her unsuspecting mother returns home.
Once readers get over their shock at the idea of leaving an infant at home alone with a dog, they will enjoy the silliness alongside Carl's gentle and devoted caregiving. Carl is utterly loveable and Baby Madeline is clearly having a grand time.
Good Dog, Carl is the first of seventeen wordless picture books about Carl and Madeline. Available in a variety of formats including board book and paperback, the hardcover measures 7.6 x 8.5 inches and is designed appropriately for small hands to grasp. Suitable for toddlers and preschool-age children.
Good Dog, Carl at Amazon.com
Good Dog, Carl at Amazon.ca
Our page about Wordless and Almost Wordless Picture Books
Other Wordless Picture Books About Carl at Amazon.com
Other Wordless Picture Books About Carl at Amazon.ca