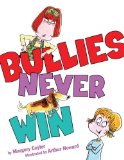 Bullies Never Win written by Margery Cuyler and illustrated by Arthur Howard
Anti bullying picture book published by Simon and Schuster Books for Young Readers
Jessia and Brenda are in the same first-grade class. In Jessica's eyes, Brenda is perfect. Her hair is perfect, her homework is perfect and her clothes are perfect. Jessica is a worrier. She is frustrated by her clothing, her knees, her barrettes and making mistakes at school but mostly she is frustrated by Brenda's bullying.
If Jessica got all her homework right, Brenda would say, "I bet you cheated." So Jessica hid her homework.
If Jessica wore a new skirt to school, Brenda would say, "Your legs look like toothpicks." So Jessica started wearing pants.
If Jessica scored at kickball, Brenda would say, "You were just lucky." So Jessica stopped playing kickball.
Finally Jessica reaches the breaking point and she tells her mom about the bullying she is enduring at school. Mom encourages Jessica to tell her teacher about the bullying. Jessica is not sure that is the solution. She spends a sleepless night, trying to decide on the best strategy. Finally, Jessica decides to tell Brenda that Bullies Never Win!"
At last, Jessica can stop worrying and relax. She has spoken her mind and silenced her bully.
Mr. Howard's illustrations, especially those of the characters' facial expressions are a highlight of this excellent anti bullying picture book.
Written from the perspective of the victim, this resource is recommended for kindergarten and older children.
Add this anti bullying picture book to your bookshelf –
Bullies Never Win at Amazon.com
Bullies Never Win at Amazon.ca
Lesson plans for Bullies Never WIn
Literature unit from edHelper.com
Lesson plan from Spoken Arts Media