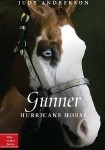 Gunner Hurricane Horse written by Judy Andrekson
Middle grade fiction published by Tundra Books
I approached Gunner Hurricane Horse with some trepidation as I'm not particularly interested in the lives of horses and, while I like animals, I don't consider myself to be an 'animal lover.' In fact, Gunner Hurricane Horse is a compelling true story that will appeal to young readers on many levels. Gunner was a very young and unkempt American Paint Horse when he arrived on Heather Lott-Goodwin's ranch. He challenged his trainers and was constantly getting into trouble of one sort or another.
As Gunner learns, grows and matures, we come to know his personality and those of the people who helped to shape him into a World Champion. We care about Heather Lott-Goodwin, her husband and her young son. When Hurricane Katrina passes directly over their ranch, we learn about the challenges faced by Heather as an emergency room nurse, the difficulty in coping for those who remained at the ranch as well as the incredible damage inflicted by the storm.
Highly recommended as a read-aloud or for independent readers aged seven and up.
Gunner: Hurricane Horse at Amazon.com
Gunner: Hurricane Horse at Amazon.ca