The Red Scarf – created by Anne Villeneuve
Almost Wordless Picture Book published by Tundra books
Turpin's day is altogether too gray until an imposing figure climbs into his taxicab. Turpin delivers the gentleman to his destination and shortly thereafter discovers a bright red scarf on the seat of the cab.
Turpin chases after the mysterious man but is detained by a lizard on a unicycle. Once he explains his purpose, the lizard allows him to pass. Turpin soon finds himself surrounded by a bear on roller skates, and a ravenous lion. Fortunately, the lion tamer is not far away and rescues him before the worst can happen.
Now, surrounded by amazing colour and exotic creatures, Turpin's day grows stranger and stranger until he finds himself in the middle of a brightly lit circus tent. A parading elephant, a fire breathing juggler, a playful monkey, a tightrope and a magic trick all add to the hijinks as Turpin struggles to return the scarf.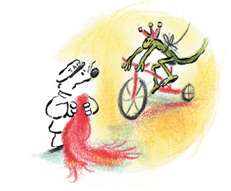 Originally published as L'echarpe rouge, this almost wordless picture book won the 2000 Governor General's Literary Award for Children's Illustration.
Best suited to children kindergarten age and up.
The Red Scarf at Amazon.com
The Red Scarf at Amazon.ca
Our page about Wordless and Almost Wordless Picture Books