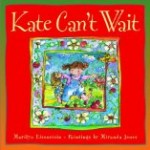 Kate Can't Wait – Written by Marilyn Eisenstein and illustrated by Miranda Jones
Picture book published by Tundra Books
Do you live with an impatient preschooler? Kate hates long car rides, waiting for her hair to grow and for her juice to be poured. Her mother constantly reminds her that some things are worth waiting for.
This message is brought home when Kate moves to live on a farm with her mom. Kate meets a new friend who gives her some young strawberry plants to cultivate. Together, the two girls nurture the strawberry plants, watching them grow and finally enjoying a delicious reward. Miranda Jones' pen and watercolor paintings depict Kate's strong emotions effectively.
24 pages, Best for children aged 3 to 7
Kate Can't Wait at Amazon.com
Kate Can't Wait at Amazon.ca