Looking for a Thanksgiving-theme picture book?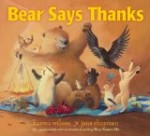 Bear Says Thanks written by Karma Wilson and illustrated by Jane Chapman
Picture book about generosity and gratitude published by Margaret K. McElderry Books, an imprint of Simon and Schuster
Bear is bored. He misses his pals. He decides to hold a feast for his friends but when he looks in his cupboard, he finds that it is empty. When Mouse arrives with a delicious pie, Bear is happy to see his friend and he expresses thanks for the delicious treat. Moments later, Hare arrives with muffins and Badger brings fish. Soon all the forest friends are celebrating in Bear's cozy den.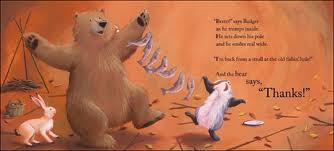 Bear mutters and he stutters and he wears a big frown. Bear sighs and he moans and he plops himself down.
"You have brought yummy treats! You are so nice to share. But me, I have nothing. My cupboards are bare!"
Bear's many friends are not at all troubled by the fact he can't contribute food to the meal, they know there are other ways he can share.
Part of a series of Bear books (Bear Feels Sick, Bear Stays Up for Christmas
….) Bear Says Thanks is a lovely celebration of friendship, generosity and gratitude, well suited to preschool age children. Gorgeous illustrations beautifully depict Bear's emotions and the animals' sense of community.
Bear Says Thanks at Amazon.com
Bear Says Thanks at Amazon.ca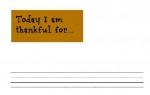 Today I am Thankful for...

"Today I am Thankful for..." interlined writing paper - great for Thanksgiving.