Storytime Standouts looks at an almost wordless picture book, Truck by Donald Crews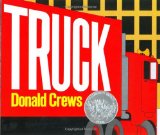 Truck created by Donald Crews
Almost wordless picture book published by Greenwillow Books, an imprint of Harper Collins Publishers
When my boys were young, books about trucks and other large vehicles were enormously popular with them. I don't know how many times we read Truck Song by Diane Siebert and Cars and Trucks and Things That Go by Richard Scarry. Anything with more than four wheels had incredible appeal. Road construction was similarly exciting and stopping to watch an excavator or a paving crew could become the highlight of our day!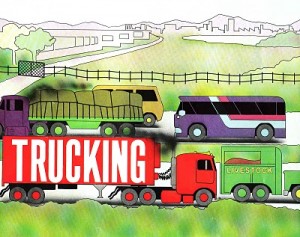 Truck tells us the story of a large, red semi trailor truck that is transporting a load of bicycles. The distinctive vehicle leaves one city, rumbling through a tunnel and eventually travelling overnight. Miserable weather and other trucks accompany the red semi trailor filled with bicycles to a rural highway. Children will love the busy interchange and the foggy roadway leading up to a bridge and the approach to another city.
Young transportation enthusiasts will enjoy "reading" the roadsigns, learning about direction and examing the other vehicles as they follow the big read truck on its journey.
Highly recommended for truck lovers ages three and up.
Truck was as ALA Notable Children's Book and a Caldecott Honor Book. It is available in a variety of formats including board book.
Our page about Wordless and Almost Wordless Picture Books
Our interlined paper with trucks

Writing paper for kids- Trucks

Truck theme interlined paper for beginning writers.
Truck at Amazon.com
Truck at Amazon.ca