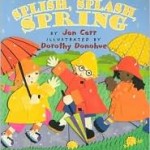 Splish, Splash Spring written by Jan Carr and illustrated by Dorothy Donohue
Spring theme picture book published by Holiday House
Bright, cheerful illustrations made from felt highlight this happy tribute to a blowy and showery spring. Splish, Splash, Spring
includes all sorts of great details for young children to discover and explore: mother robin feeding her peeping babies, frogs swimming in a stream, spiders and ladybugs near the bright yellow crocuses. Would be a great tie-in to making and flying kites.
Best for preschool children
Kites are swooping
Loop-de-looping
Snapping, flapping
Look at me!
Be sure to visit the illustrator's website (link above) for details on how she creates the eye-catching illustrations from felt.
Kite Making For Child Flyers from My Best Kite
Scholastic's lesson plan for Splish Splash Spring
Splish, Splash, Spring at Amazon.com
Splish, Splash, Spring at Amazon.ca
Follow this link to our Spring and Easter theme printables for preschool and kindergarten