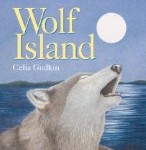 Wolf Island written and illustrated by Celia Godkin
Picture book published by Fitzhenry & Whiteside
In Wolf Island author-illustrator Celia Godkin has created a sensitive, fictional exploration of the importance of biodiversity, the relationship between predator and prey, and the complex relationships within an ecosystem.
Wolf Island is home to many plant and animal species including a family of wolves. The island ecosystem functions well until a log raft drifts near the shoreline. Curious wolf cubs climb onto the raft and are soon floating away from the small island. Frantic howls draw the adult wolves to the raft and, moments later, the wolves are all aboard the raft. With the departure of the wolves, the island's natural balance has been disrupted.
As the seasons pass, the wolves' absence begins to be felt. An abundance of deer produce more fawns would otherwise be on the island so more grass and leaves are consumed. With less vegetation available, the rabbit, fox, mouse and owl populations are each impacted in turn. Soon many animals experience hunger and suffering. A difficult winter causes hardship but produces an ice bridge from the mainland to the island and the emaciated wolves are able to return home to their territory.
Well-suited to late primary grades, Wolf Island is an excellent introduction to biodiversity and offers many possibilites for further discussion and exploration.
Detailed Teachers' Guide including page-by-page commentary, topics for discussion and a glossary
Wolf Island at Amazon.com
Wolf Island at Amazon.ca
You may be interested in our page about children's books that encourage environmental awareness.