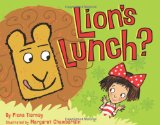 Lion's Lunch? written by Fiona Tierney and illustrated by Margaret Chamberlain
Anti bullying picture book published by Chicken House, an imprint of Scholastic
When Sarah goes for a walk in the jungle, she sings a happy song. Before long, a ferocious lion jumps from behind a bush and demands to know why she is in his jungle. When Sarah explains that she is walking, the lion asserts that jungle creatures "Run, sprint, prowl, creep, swing, lumber, slither, swoop, gallop and scuttle."
When Sarah says that she was singing, the lion states that jungle creatures "Roar, yowl, grunt, chatter, buzz, trumpet, hiss, growl, pant, and harrumph."
Lion decides that Sarah would make a tasty lunch especially since she can't stalk like Tiger or leap like Gazelle.
Sarah suggests that she can do something that no jungle creature can do. She can draw. When, at last, she shows Lion her picture, he is not impressed with the angry lion face he sees and, when the other animals agree that he is a bully, Lion decides to change his ways.
Wonderful descriptive language and bright, bold drawn and computer-generated illustrations enhance this examination of bullying behavior and leave readers with a sense of optimism about one's ability to speak up, enlist help and ultimately encourage a bully to change for the better.
Lion's Lunch is best suited to children aged four and up.
Add this anti bullying picture book to your bookshelf –
Lion's Lunch? at Amazon.com
Lion's Lunch? at Amazon.ca