You may also be interested in our page titled "Diversity." We highlight picture books and chapter books that celebrate and inform us about human diversity including learning disabilities, physical disabilities, allergies, single parent families, interracial families, same sex parents, aging, death and more.
Don't miss our page of quotes about diversity.
As parents and teachers, there are many moments when we must help our children to deal with challenges. These books deal with important information and themes. A well written book can often be enormously helpful. Today, I would like to introduce you to a number of picture books that may assist you to guide your children.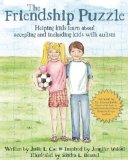 The Friendship Puzzle: Helping Kids Learn About Accepting and Including Kids With Autism Written by Julie L. Coe, inspired by Jennifer Maloni, and illustrated by Sondra L. Brassel
Published by Larsian Publishing, Inc.
When Mackenzie meets a new boy in her class, she tries to be his friend but he seems a little different. At recess, Dylan spends alot of time on the swings and, although he apparently wants to play soccer with his classmates, he does not seem to know how to join in and play.
Dylan is bothered by the noise in the cafeteria and he sometimes waves his hands and makes noises. Mackenzie decides to find out how to be Dylan's friend. She learns that Dylan 'doesn't have a lot of words and that it is hard for him to tell people he wants to play or be friends.'
In addition to telling the story of Dylan and Mackenzie, The Friendship Puzzle includes discussion questions and suggested activities. The authors also remind readers that it is important to praise children who reach out to and are inclusive of others.

The Friendship Puzzle: Helping Kids Learn About Accepting and Including Kids with Autism at Amazon.com
The Friendship Puzzle: Helping Kids Learn About Accepting and Including Kids With Autism at Amazon.ca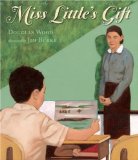 Miss Little's Gift (Douglas Wood and Jim Burke)– Douglas is in grade two and he doesn't like to sit still. He interrupts his teacher; he has problems with reading and on the playground. He is very resistant to staying after school in order to get extra help but Miss Little is firm and determined. She finds a book to match his interests, she encourages him and she gives him just enough help. Miss Little's Gift is a celebration of the difference a wonderful, caring teacher can make.


Miss Little's Gift at Amazon.com
Miss Little's Gift at Amazon.ca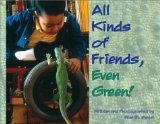 All Kinds of Friends, Even Green (Ellen B. Senisi)– Here we accompany Moses on a school day. When he is given an assignment to write about friends, he carefully considers all of his friends and all the fun things he does with them. Ultimately, he decides to write about an iguana named Zaki whose toes were poisoned by mites. Moses likes Zaki because 'she figures out how to get where she wants to be in different ways.' Moses understands that friends may be different on the outside but may be very much alike on the inside.

All Kinds of Friends, Even Green! at Amazon.com
All Kinds of Friends, Even Green! at Amazon.ca