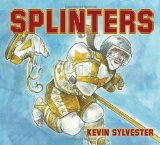 Splinters – written and illustrated by Kevin Sylvester
Picture book published by Tundra Books
Cindy loves to play hockey but it is an expensive sport to play and her family is poor.   Showing great determination and resourcefulness, Cindy is excited to finally earn enough money to join a neighbourhood team.  Unfortunately, at the rink, Cindy encounters three nasty Blister Sisters who make playing hockey very unpleasant. 
At her very first practice, she met the Blister Sisters. They could tell she was one good hockey player, and they were jealous.
They insulted her old equipment… Then they made her look bad on the ice… They could do this because their mom was the coach
Thank goodness Cindy has a fairy goaltender watching out for her. The fairy's magic provides Cindy with a dazzling new uniform, gleaming skates and a Zamboni – to transport her to the all-star team tryouts. Cindy rushes to the rink and does not disappoint – she is a star.
Knowing that the magic spell will end once the final buzzer has sounded, Cindy rushes away from the rink, leaving a shiny skate behind.
Coach Prince is determined to match the shiny skate to the player who wore it during the tryouts.
Coach Prince went from locker room to locker room, trying the skate on every girl she could find. Finally she arrived at Cindy's rink ensuring a happy ending for Cindy and her new team.
Splinters will have greatest appeal for children who are familiar with Cinderella. We love the idea of taking a familiar story, like Cinderella and retelling it with new characters and a contemporary setting. In a primary classroom, we suggest using Splinters as a jumping off point, inspiring young writers to imagine other situations for Cinderella to encounter.
Splinters at Amazon.com
Splinters at Amazon.ca