Storytime Standouts looks at a delightful picture book that celebrates fathers and fatherhood – Some Dads… by Nick Bland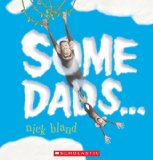 Some Dads… written and illustrated by Nick Bland
Picture book about fathers published by Scholastic
In his cheery tribute to fathers, Nick Bland depicts all sorts of animal parents exuberantly interacting with their offspring. We laugh at an over-protective elephant papa who fills a swimming pool with life rings and a mischievous sheep who can't resist throwing a water balloon at his child.
Readers, both young and old, will enjoy the playful rhyming and the jubilant illustrations. Some Dads… is an excellent choice for Father's Day or Dads' Day at preschool, delivering a fun and affectionate message about diversity and unconditional love.
Some dads like strolling.
And some dads rock'n rolling.
And some dads just love the outdoors.
Well suited to children aged two and up.
Some Dads… at Amazon.com
Some Dads… at Amazon.ca