Taking a look at a picture book about a child's frustration and anger…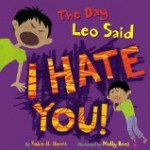 The Day Leo Said I Hate You written by Robie H. Harris and illustrated by Molly Bang
Picture book about anger, frustration and emotions published by Little, Brown and Company
When young children feel anger, it can be a frightening experience for them. They may be completely overcome by frustration and may be unable to control their words.
Here we meet Leo, a little boy who has been told, "No" more times than he can count. His mommy doesn't want him to roll tomatoes across the floor and she doesn't want him to drop string beans into the fish bowl.
Leo announces that he hates "No." Mommy calmly says that she understands his feelings but, "There are some things you just should not do." Leo decides that his bedroom is the best place to be but, when he begins drawing on the wall, his mommy is certain to be annoyed and it is not long until he cannot contain his emotions any longer. He shouts, "I HATE YOU."
Strong, bold Photoshop illustrations are sure to resonate with children who have felt overpowering emotions.
A valuable resource for families, The Day Leo Said I Hate You!
is a reassuring story of enduring love – even when it has been a very long and extremely emotional day.
The Day Leo Said I Hate You! at Amazon.com
The Day Leo Said I Hate You! at Amazon.ca