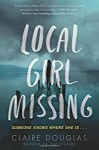 Local Girl Missing writting by Claire Douglas
Adult fiction published by Harper Collins
It is almost six years to the day since I wrote about adult fiction! These days, my volunteer work absorbs so much time and energy, I rarely take the time to write reviews of the books I make time to read.
I do want to let you know about Local Girl Missing. It was exactly the sort of book that I was ready to discover. Interesting characters and a good mystery kept me awake late and guessing right til the end.
Sophie disappeared off a dilapidated pier nearly twenty years ago under mysterious circumstances. When human remains wash up on a local beach, it seems almost impossible that they could belong to Sophie. The fact that the remains are in a trainer (track shoe), could mean that they could be identified as belonging to her and the family will be able to experience some closure.
In light of the gruesome discovery, Sophie's brother Daniel convinces Frankie to spend a week in their hometown, investigating Sophie's disappearance with him. Visiting old friends and locations and being near to the decrepit pier is, at times, alarming and creepy for Frankie.
Ms Douglas skillfully intertwines Sophie's thoughts and experiences with those of Frankie by alternating the chapters. The book begins with Frankie's thoughts in February 2016. The next chapter is set in 1997 and is narrated by Sophie.
Well-paced and intriguing, Local Girl Missing is the sort of book I really enjoy. Entertaining and suspenseful, it kept me guessing until the pieces came together and the mystery was solved.
Let me know about your favorite escapes! This is a book that reminded me of the pleasures of reading. Thank you to Harper Collins for providing me with the proof copy.
Local Girl Missing at Amazon.com
Local Girl Missing at Amazon.ca