Take a Look at Bully 101 – Asking Some Tough Questions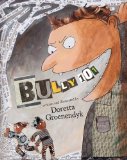 Bully 101 written and illustrated by Doretta Groenendyk
Anti bullying picture book published by Acorn Press
Want to ensure you get your way?
Just mess up another kid's day.
Push them and shove them and give them a scare.
Our bullies love fear and thrive on a dare.
Students who attend a class called Bully 101 learn that the best solution to feeling poorly about themselves is to make another child feel terrible. Bullies steal notebooks on the school bus, damage clothing, ostracize good students, spread rumors and make jokes. Sometimes they even resort to physical violence. For those who feel badly about their 'course selection,' there is an alternative class: Kindness 202.
Suited to primary and middle grade students, Bully 101 includes rich language: demoralize, humiliate, thrive and striking collage illustrations that will appeal to older readers.
Best at identifying bullying behaviors, Bully 101 implies that Kindness 202 is a happier, more inclusive choice. It does not problem-solve suggestions for victims or bystanders. Essentially the story suggests that choosing kindness will have a happier outcome for all – including those who are currently making poor choices.
Bully 101 takes a simplistic approach to the terrible problem of bullying that will not be appropriate in every circumstance but there are good reasons to use it as a discussion-starter in a primary or middle grade classroom. As well, Ms. Groenendyk's fascinating illustrations could be used as a jumping off point for exploring this timely theme with young artists.
Bully 101 at Amazon.com
Bully 101 at Amazon.ca