Beaver is Lost – An Almost Wordless Picture Book
Storytime Standouts looks at Elisha Cooper's almost wordless picture book, Beaver is Lost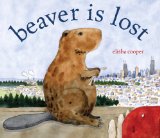 Beaver is Lost created by Elisha Cooper
An almost wordless picture book, published by Schwartz and Wade Books, an imprint of Random House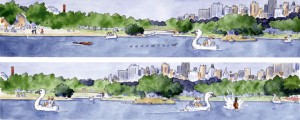 When beaver floats away from his dam and his three friends, he soon finds himself surrounded by hardworking people and their enormous machines. The workers are loading lumber onto a truck.
Beaver hops aboard a fully loaded truck and hitches a ride to the city. Once there, he scampers away from the truck. A snarling dog chases him through a hole in a fence and into a backyard. Leaving his new enemy behind, Beaver swims through an alligator-toy infested pool and is eager for further adventures. It is not long before he discovers the city zoo and some distant relatives. Escaping a surprised zookeeper, he dives into a duck pond on his way into the busy city.
Our ever-resourceful new friend is not one to shy away from drainpipes, crowds of people, stairways or bodies of water. Happily, as the sun sets, his exploits lead him to a familiar river and a welcome home. Readers are left to wonder whether Beaver was truly lost – perhaps he just possesses an adventurous spirit.
Beautiful watercolour cityscapes and waterscapes together with fast-paced frames and an engaging story highlight Beaver is Lost. Highly recommended for children aged four and up.
For older children, possible extension activities for this almost wordless picture book could include devising further exciting adventures downstream.
One of Kirkus Reviews' 2010 Best Children's Books
Beaver Is Lost at Amazon.com
Beaver Is Lost at Amazon.ca
Our page about Wordless and Almost Wordless Picture Books