Wordless Picture Book Fun – Hocus Pocus by Sylvie Desrosiers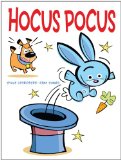 Regular readers of Storytime Standouts will know that I am a fan of wordless and almost wordless picture books. When an adult shares a wordless picture book with a child, the adult loses the "reading advantage." In a wordless picture book, there are almost no words to read. The story is told through the illustrations so both adult and child can partner to "read" the story and decide what it is all about.
Wordless picture books are great for vocabulary development because they encourage co-readers to discuss the illustrations as they move through the story. Wordless picture books are terrific for multi-lingual families because they can be enjoyed in any language. Additionally, wordless picture books provide a non-reading child the opportunity to "read" the illustrations and retell a story. Learning to "read" illustrations and retell stories are valuable skills for pre-readers and beginning readers to develop.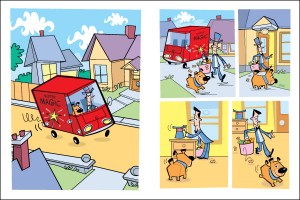 Hocus Pocus – story by Sylvie Desrosiers, illustrations by Rémy Simard
Wordless picture book published by Kids Can Press
When Mister Magic arrives home with his top hat, Dog and a bag full of groceries, he is ready to relax. He puts on headphones, sits in a comfortable chair and listens to music. Before long, Mister Magic and Dog are both fast asleep and Hocus Pocus, a mischievous rabbit is scrambling out of Mister Magic's top hat. Hocus Pocus sees Mister Magic's carrots peeking out of the grocery bag and wants one. He worries about awakening Dog and is soon plotting ways to avoid the canine and his sharp teeth.
Retro illustrations (created with Adobe Illustrator) and the messy, farcical battle between Dog and Hocus Pocus give the story a cartoon-like feel. Hocus Pocus is great fun and will be enjoyed by children aged four and up.
Hocus Pocus Printables from Kids Can Press
Hocus Pocus at Amazon.com
Hocus Pocus at Amazon.ca
Our page about Wordless and Almost Wordless Picture Books