Paul Romanuk has scored a winner with the Book of Hockey Lists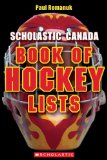 Atom Rep (Hockey) tryouts are underway. Stinky gear is airing in my otherwise attractive front hall. meals and activities are carefully planned and pressure mounts as my youngest son attempts to "make" the top team in his division. It won't be easy but we are cautiously optimistic that he will be successful.
To be honest, I'm hoping this year the rep try-outs will be more efficient than last when we drove him to the rink eleven times before learning which team he would play on. He had a fantastic season and really wants to play for the same coach this year… My fingers are crossed.
As summer winds down, I'm not really mentally prepared for the start of winter activities. Pulling my warm jacket out of the closet just doesn't seem right. But, since nine-year-old thoughts have already turned to hockey, we picked up Scholastic Canada's Book of Hockey Lists. It is a perfect choice for hockey-hungry nine-year-olds. We've checked out lists of player accomplishments, milestones, quotes and all sorts of interesting hockey trivia. The author, Paul Romanuk knows his audience and has scored a winner with this title.
Scholastic Canada's Book of Hockey Lists at Amazon.com
Scholastic Canada's Book of Hockey Lists at Amazon.ca