The world is a better place Because of You – Making a Difference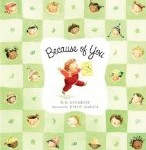 Because of You – written by B.G. Hennessy and illustrated by Hiroe Nakata
From the moment we arrive on earth, each of us has the potential to change the world by loving, sharing, listening and helping others. Lively illustrations and an important and timely message encourage each of us to consider making a difference and how we contribute to the world around us.
"When people from different countries help, care, share, and listen ton one another it is called peace. Even something as big and important as peace begins with something small and precious. It might begin… because of you."
Because of You
would make a cherished gift for new parents or your favourite preschooler.
Suitable for children ages 2 and up
Because of You at Amazon.com
Because of You at Amazon.ca