If you are helping a young child to learn letters, we suggest that using a white board can be a fun way to discover letter shapes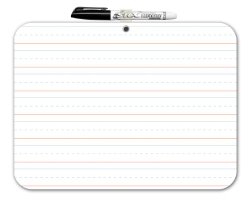 Here's a white board game that encourages youngsters to think about letter shapes. Begin by drawing part of a letter using a dry erase marker. For example "l" could be part of "B". "D", "E", "F", "H:, "I", "K", "L", "M", "N", and more. Add another "piece of the puzzle" – perhaps a horizontal line ( for "E" or "H"). Continue adding bits of the letter until the correct letter is guessed or revealed. This activity draws attention to the ways letters are alike and different and is played enthusiastically in a group setting.
Be sure to check out our printable alphabets and our alphabet recognition page– more great resources for children learning letters.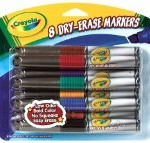 As an aside, white boards are often very appealing to young learners – and not just those who are learning letters! When mistakes are made, the "evidence" is quickly erased. I've found white boards very helpful for reviewing spelling and doing math. Crayola makes "kid friendly" dry erase markers in a variety of colours. I've had good success with them and use them in my classes.
Crayola 8 Count Dry Erase Markers Chisel Tip at Amazon.com
Crayola 8 Count Dry-Erase Markers-Assorted Colors 8 at Amazon.ca/Pkg
Board Dudes Double Sided Dry Erase Lapboard, 9 x 12 Inches at Amazon.com
Board Dudes Double Sided Dry Erase Lapboard, 9 x 12 Inches at Amazon.ca
Some of our Most Popular Posts About Teaching the Alphabet
Hover over the photo for a description of the activity. Click on the photo to read the full post
We invite you to follow Storytime Standouts' Alphabet Craft Board on Pinterest
Follow Storytime Standouts's board Alphabet Crafts on Pinterest.