Our Very Best Posts About Children's Books and Learning to Read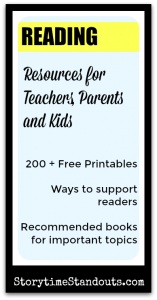 We will help you discover great children's books for toddlers, preschoolers, and school-age children. We want parents and teachers to share the magic of a great book with kids every single day. We write about ways to support children as they learn the alphabet, learn letter sounds, begin to read and then embrace reading independently.
We are enthusiastic about great books for kids and we want to share both new books and classic picture books. We also focus on special topics and take an in-depth look at some genres especially anti-bullying picture books and chapter books, books about the environment and embracing family and community diversity. Whenever possible, we provide extras that will enrich a child's reading experience.
Take a few moments, explore the site and enjoy!
Carolyn Hart, Storytime Standouts




Picture books that deal with a specific topic
Learning to Read
Free Printables for Children, Parents and Teachers
Young Adult Fiction
Series about children's books, learning to read and author / illustrators