Anti bullying book for beginning readers: Fancy Nancy and the Mean Girl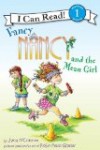 Fancy Nancy and the Mean Girl written by Jane O'Connor, illustrated by Robin Preiss Glasser and Ted Enik
Anti bullying book for beginning readers published by Harper Collins Children's
Fancy Nancy and the Mean Girl is part of Harper Collins Children's I Can Read series. Ranked by Harper Collins as "Beginning Reading Level 1," it is generously illustrated and includes words such as appetite, splendid, speechless and canceled.
Field Day is just around the corner. Most of Nancy's classmates are excited about the upcoming races but Nancy is not. She is dreading Field Day because she is not good at running and last year, when her team lost, she was teased. When Nancy discovers that Grace is on her team, she is doubly concerned. Grace is sometimes mean.
Nancy trains hard for the relay race but her training is too little. too late. She decides a different tactic might work. She pretends she has injured her foot and she begins limping. Nancy's dad is not convinced by her limp and he questions her about it. Finally, Nancy confides and explains why she is upset.
After a conversation with her dad, Nancy feels better and she approaches Field Day and Grace with a plan. She speaks to Grace
"I will run as fast as I can.
But if we lose,
don't say mean stuff.
You are a good runner.
But you are not a good sport."
Fans of the Fancy Nancy series are sure to enjoy this anti bullying book for beginning readers. The story is engaging. Both Nancy's problem and the outcome are realistic. Fancy Nancy and the Mean Girl could lead to discussions of teasing and bullying as well as sportsmanship and doing one's best in a difficult situtation.
Recommended for children aged six and up.
Fancy Nancy and the Mean Girl at Amazon.com
Fancy Nancy And The Mean Girl at Amazon.ca
Note – my copy of Fancy Nancy and the Mean Girl is a (hardcover) First Edition, copyrighted 2011. There is a typo on page 16: "That's means I'm not hungry"