Art's Supplies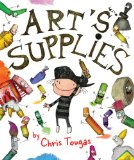 Art's Supplies written and illustrated by Chris Tougas
Picture book about artist supplies published by Orca Book Publishers
Clever, funny and inspiring, Art's Supplies is exactly the sort of picture book I delight in.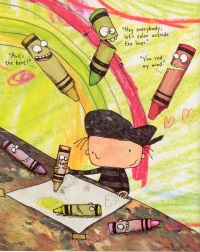 Trouble is just around the corner when Art's paper invites everyone for a party at her "pad." It doesn't take long for the pencils to arrive. They are soon joined by crayons, markers, pastels, ink and many more colourful and creative guests.
"Next the crayons rolled in with some fun ideas.
Those guys sure know how to think outside the box.
The markers all agreed that they FELT great.
Then the pastels arrived. They blended in smoothly."
With lots of bold visual appeal, enough puns to make you grown aloud and clever wordplay, Art's Supplies will be enjoyed by children, especially those who love to make art, aged 4 and up.
Art's Supplies was honored with the following picture book awards –
2010 Chocolate Lily nominee
2009 Canadian Children's Book Centre Best Books
2008 Resource Links "The Year's Best"
Art's Supplies at Amazon.com
Art's Supplies at Amazon.ca
School District 71 Lesson using Art's Supplies – Writing Trait: organization
Show and Tell: Visual Literacy In Picture Books also reference's Art's Supplies