Phonemic Awareness – Questions for Your Child (2)
The focus of our last few posts has been phonemic awareness, an important element of readiness for reading and spelling. Here are some more ways you can assess your child's phonemic awareness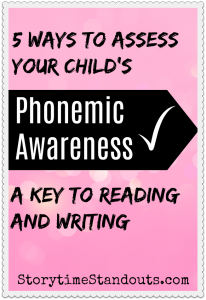 Can your child break a word apart by syllable? If you say "carpet" can your child hear and say "car – pet"?
Can your child mush sounds together (to make a word)? If you say "r – a – t" can your child hear and say "rat"?
Could your child hear whether two words begin with the same sound?
When asked to listen for a sound, can your child distinguish whether the sound is at the beginning, middle or end of a word? For example, when asked to listen for the /S/ sound, can your child hear it at the beginning of "skunk", in the middle of "listen" and at the end of "tents"?
Could your child tell you the sound at the beginning of a word? Could he say which sound is at the end of a word? And, most difficult of all, could your child correctly identify the sound in the middle of a word?
It is not difficult to understand why, a child with above average phonemic awareness will probably be a very good speller. If you can hear the sounds in words, you are more likely to spell the words correctly.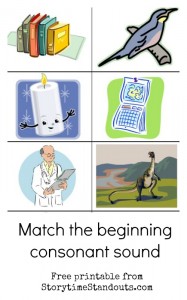 Match the Ending Consonant Sound

Another way to help children develop phonemic awareness. Matching the ending consonant sound is more difficult than matching the beginning consonant sound.

Match the Beginning Consonant Sound

Cut the pictures apart and have children match the initial consonant sound - a great way to support the development of phonemic awareness.
For more ways to help your child develop phonemic awareness, follow this link to visit our Phonemic Awareness page.