Tips for Grade One Recycling in Why Should I Recycle? by Jen Green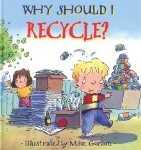 Why Should I Recycle? written by Jen Green and illustrated by Mike Gordon
Why Should I Recycle?
a picture book about recycling is part of a series of books that includes Why Should I… Save Energy, Save Water, and Protect Nature. It explains that items typically tossed into the garbage often can be reused.
On a field trip to a recycling center, Mr. Jones explains that bottles, cans, plastic, clothing and paper can all be used again. Additional suggestions include composting, donating used clothing, books and toys, reusing plastic bags and choosing to buy items made from recycled materials.
Endnotes for teachers and parents include suggestions for points to discuss as well as follow-up activities and a list of picture books about recycling, pollution, and conserving energy.
Best for children aged 4 – 6, Why Should I Recycle? provides an introduction to this subject and is well-suited for use in a classroom library.
Why Should I Recycle? at Amazon.com
Why Should I Recycle? at Amazon.ca